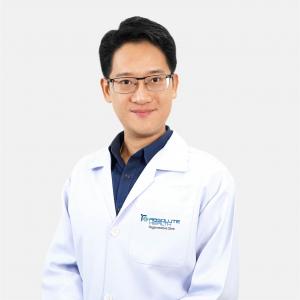 An experienced physician in integrative medicine and nutrition therapy for anti-aging and rehabilitation.
SITT  TIENTHITI, MD.
Specialty  : Integrative and Regenerative medicine ,  Nutritional Medicine
Education and Training 
2005        Graduated from Faculty of Medicine, Mahidol University
2010        Certificate of attendance , American Board of Anti – Aging and Regenerative Medicine, A4M Thailand
2011        Certified Cell therapy, Association of Cell Therapy, THAI.
2011        Certificate of attendance, 3rd annual stem cell asia and Regenerative medicine , Singapore
2014         Certificate of Nutritional and environmental medicine
               ACNEM –Austracian collegue of nutritional and environmental medicine
2014        Certificate of approval , Chelation Medical Association, THAI.
2014        Certificate of attendance, The 6th Science of Nutrition in Medicine  and Healthcare, Australia
2016        Certificate of completetion,  Advance Nutrition and Wellness , The Center of Integrative  Nutrion and Wellness (IFNW)
2016        American Board Naturopathic Certification in Nutrional Wellness (CNW)
2017       Certificate of completetion,  Injectable Nutrion for Wellness and Chronic disease , The Center of Integrative Nutrion and Wellness        (IFNW)
2017        Certificate of attendance, Laser therapy in Regenerative medicine ( ISLA)
Experience 
2006                  Chief of internship medical doctor, Samutprakarn hospital
2007                  Research assistance and medical teacher, Pharmacology  department , Faculty of Medicine, Siriraj hospital , Mahidol University
2008-2009        Medical doctor at emergency department, Mission hospital Phuket
2009-2010        Medical doctor at emergency department, Ladproa general hospital
2010-2011           Medical Consultant at Holistic Medical Center
2012 to present   Medical Consultant At Absolute Health Regenerative clinic
2015 to present   Board committee, Association of Cell Therapy, THAI.
2018 to present   Board committee, Chelation Medical Asoociation, THAI. (CMAT)
Dr. Sitt Tienthiti, is an experienced physician in Integrative medicine and Nutrition Therapy for Anti-aging and Rehabilitation at the Absolute Health Regenerative clinic.
His treatment plan is individually customized to find and treat the cause of illness and not just symptom reduction.
To Dr. Sitt, an illness with an unidentified root cause cannot be tackled optimally. Therefore, through his experience and in-depth knowledge of Integrative medicine, he takes a multi-prong approach to his treatment techniques to optimize patient care to achieve the treatment goals.  He also believes in the importance of patient education and is ready to teach and coach his patients throughout their healing journey.
Passion and Determination
His passion for continuous studies in various techniques and ten years of clinical experience makes Dr. Sitt an expert in treating patients through Integrative medicine. His aspiration makes him a determined physician who focuses on effective Integrative medicinal treatment methods. He doesn't only look at simple signs and symptoms but instead, deeply examines the disease, analyzes and probes the cause of the illness. This in turn has made Dr. Sitt into one of the most highly sort after physicians in the field of Integrative medicine here in Thailand. 
Combining treatments approach for optimal result
It is common for Dr. Sitt to take a combination treatment approach in a patient's treatment plan. At times he adds a pinch of Anti-aging medicinal treatment techniques into his Integrative treatment plan which may include body and mind healing techniques and nutritional management.
Like many doctors, being mentored by Dr. Chatchai Sribundit who is the founder of Absolute Health Group, Dr. Sitt strongly believes in proper patient communication and in-depth diagnosis.  To him, like a medical detective, the most important thing is finding out every detail of the patient's life in order to probe into the root cause of an illness. For a clearer clinical diagnosis, he normally orders Functional laboratory tests to determine the level of inflammation, amount of toxins in the body, antioxidants, hormone balance, nutrition balance, and more.
Dr. Sitt uses the information from the laboratory report plus those gathered during the patient interview session to craft an individually exclusive treatment plan. He will then provide patients with information on the treatment method, medication, and side effects. Depending on the patient's health goals, Dr. Sitt would recommend treatments such as detoxification, virus disinfection, immunity-boosting food and herb selection, or a cell repair plan. Dr. Sitt is always there for his patients and will be their health coach throughout their treatment journey.
Individualized treatment
As mentioned above, Dr. Sitt focuses on personalized treatment. Through his clinical experience, he learns that no two patients are the same although they may have the same illness. This is because the root causes most of the time is different. Having said that, it also means that the type of treatment will also be different. One good example to illustrate this is by looking at different types of clothes. Conventional treatment is like a ready-made shirt, while Dr. Sitt's treatment model is like a tailor-made suit that fits specifically only the individual.
With the knowledge that there is no such thing as an ultimate treatment, Dr. Sitt believes that our body can be effective in healing itself. To him, a physician does not act as an indicator of a cure for an illness. In turn, a physician's scope is to facilitate an effective self-healing process of a patient to optimize his or her health.
Healing and Happiness
Apart from treating only the illness, what Dr. Sitt enjoys the most is seeing the smiles on the faces of fully recovered patients and their loved ones. This is especially so for patients who are diagnosed and suffer from an incurable illness. Dr. Sitt stands firmly by the principle of Integrative medicine treatment and has had many proven positive results.
Credentials and certification
Below are some of the credentials and certifications that Dr. Sitt has achieved throughout his career:
Physician in Integrative medicine and Nutrition therapy for anti-aging and rehabilitation from Science of Nutrition in Medicine and Healthcare, Australia
Advanced Nutrition and Wellness (IFNW)
American Board Naturopathic Certification in Nutritional Wellness (CNW)
Turn Back