Absolute Health, fully comprehensive treatment and excellent service in every detail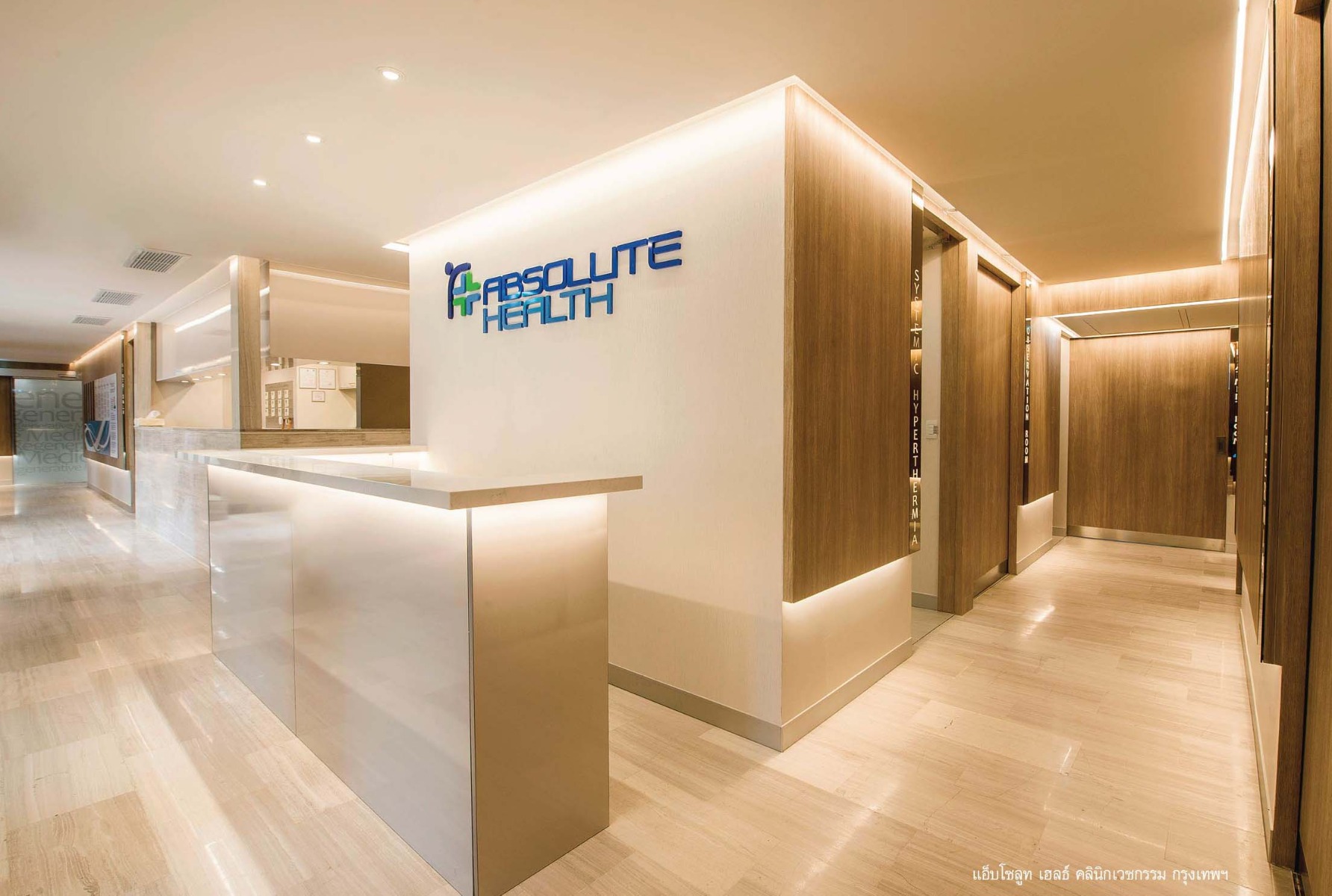 Our expert doctors have the experience to search for the cause of the disease and provide the quality of care to treat the source of the problem directly. These are the core values that we dedicate to all customers when receiving treatment with Absolute Health Integrative Medicine. We continue to develop the quality of our treatments with a commitment to promoting modern treatment technology, speed of service, patient comfort all within a caring and beautiful clinic environment. We are committed to providing an excellent experience in every detail because everyone is our VIP.

Personnel with excellent service mind
Every customer is treated with care and respect. We look after every detail during your treatment with us. Our clinics are located is easily accessible areas around the country. As soon as a customer walks through our doors, they are greeted by our welcoming staff who are attentive and friendly. We are ready to take care of you.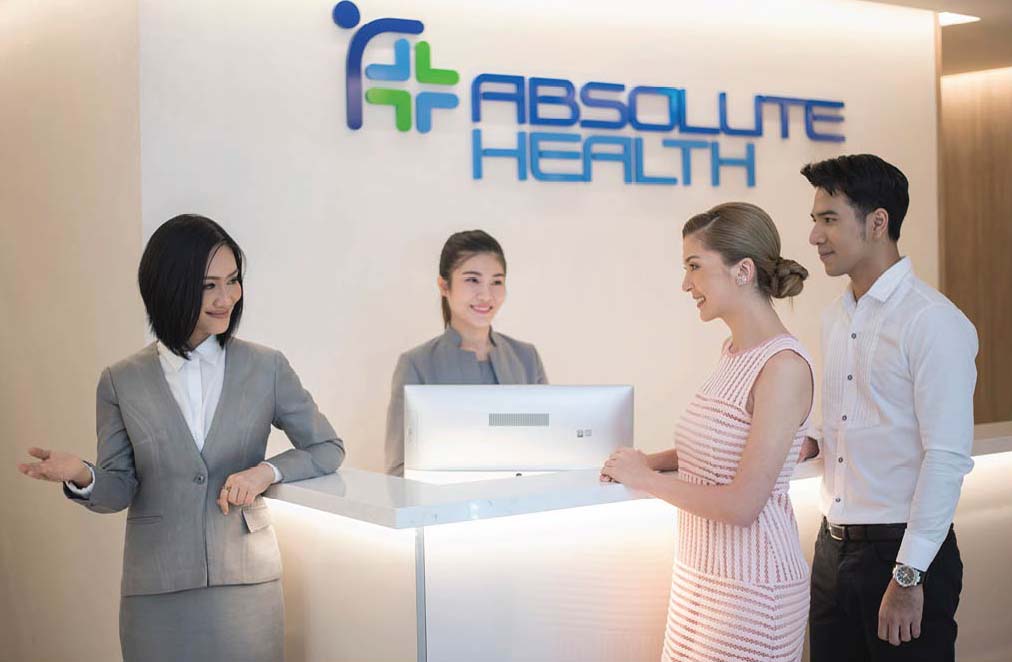 The doctors provide expert treatment, thorough attention to detail, ensuring you receive the detailed information that cover all aspects of the treatment. Our personnel provide a high-quality service. They have expert knowledge about health and medical science promoted through our continuous drive to train all our team by our experienced doctors so they have the knowledge and are ready to provide suggestions to the you. 
Our treatment and service does not stop when the customer leaves our clinic.  We place an importance on aftercare. In some follow-up cases, the team will call to ask about symptoms. If you notice anything abnormal, notify the doctor immediately so we can plan further treatment. We are like your personal secretary who will call to remind you about your appointments so that you don't miss scheduled treatments. If you are sick with an emergency and must be admitted to the hospital, we are ready to visit you and provide further information because all of you are like family.


Take care of all components related to the treatment
Vitamins, food supplements, herbs, and modern technology equipment are all important areas the doctor will use for treatment. We have placed an importance on the thorough selection of all components, taking the quality and safety standard in all production procedures into consideration, which receive quality standard certifications at the national and international level.

We emphasize using good quality components in the mixtures for the therapy. For example: The mixture of components in making the chelation is what can give the greatest benefit. This is the reason why we receive positive customer feedback on our chelation therapy and that it provides noticeable benefits. In addition to the experience of the medical personnel who perform the procedures, the mixtures that we have selected are of the highest quality and come from the best international sources of production.

The quality level of our vitamins is equivalent to medicine. They can cure and fix deficiencies in the body system and improve the health of customers with no chemicals or residue in the body. Customers can be assured that they will receive the highest quantity of vitamins and food supplements. Each treatment is individualized for the customer.  

Medical equipment used in all treatments is selected by Dr. Chatchai Sribundit, the Chief Executive Officer of Absolute Health Group. With his experience in integrative and anti-aging medicine, as well as experience in treatment and in-depth wide-ranging research, Dr. Chatchai Sribundit has selected the best equipment that effectively benefits the treatments. Importance is placed on the proper properties of the technology and all equipment has been tested by the clinic's medical team to ensure that they meet the highest safety standards and are truly good for the customer.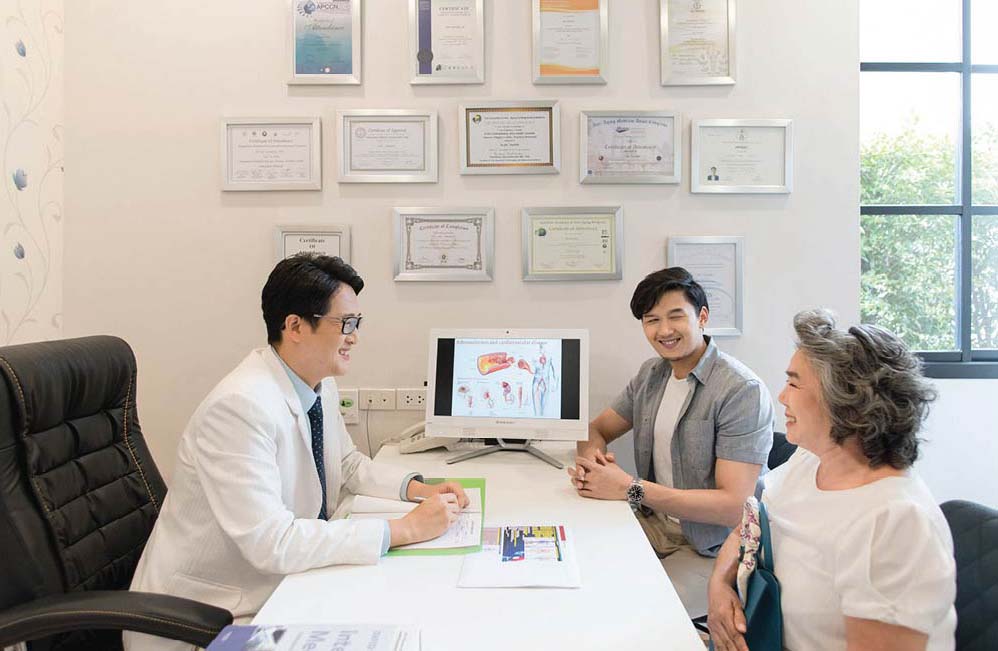 Beautiful environment and warm atmosphere with perfect style and design
Everyone wants to be treated well when they are sick and when they receive healthcare. Good care within a comfortable environment with high quality facilities help to create good feelings. Therefore, for our work, we are determined that every detail in our center, have been specifically selected to provide the very best healing atmosphere. 
The design and interior decoration emphasize being comfortable and relaxing. All the rooms have been designed to provide comfort and convenience. The reception is in the front zone in order to take care of customers immediately upon arriving until the treatment is complete. All rooms are arranged in an efficient order for ease and convenience. The decoration of the center emphasizes warmness and comfort. You will feel good when you are here with us. 
The lighting has been designed by specialists so that they serve their practical purpose whilst providing a good feeling at the same time. If you want to do other activities during the treatment, you can do them at the same time, including having meals, working or a sub-group meeting. We have tables for all purposes, including equipment that can connect to various systems to serve you, such as reading lamps or plugs for charging communication devices.

In case of visiting as a couple or as a family, we can arrange a private connecting treatment area. We play music that reinforces positive feelings and provides relaxation at the same time.

Ventilation system and air-conditioning are well-designed. It can be said that all zones will have a perfect temperature because the system is designed by specialists who take the direction of the sun into consideration. The temperature in each room is calculated for just the right level of cool air. Customers will not feel uncomfortable when entering the center because the air is fresh from having a good ventilation system and receiving only good air for circulation.

For food and drink, containers and utensils, we go deep into the detail of every process. Starting from the food and drink container, we have selected high quality products and can take the weight whilst also looking good. The drinks that are served to the customers will be considered from the needs and suitability. For example, mulberry tea has no caffeine, it releases a fragrance and freshens the throat. If it is water, you can be assured that it is pure water that has passed through filtration with small molecules so it can help with vitamin absorption.

The food in our service is selected from first-class raw ingredients and free of chemicals which are hygienically cooked under the supervision of the chef. For those with congenital disease, we are ready to prepare the food in the form and method that are suitable for each individual.

Chairs, beds, pillows, and blankets are items that the customer will be in contact with for a long time during the treatment. Therefore, we have been very meticulous in their selection for customers to feel comfortable while sitting and sleeping. The pillows and blankets that are used provide a soft touch and cause no irritation to the skin. 

Systematic attention to detail in the standards to treatment, service and facilities is our aim.  To provide steadfast service to every customer to receive the best, both in body and mind, every time that you visit our centres. You are always an important and special person to us.