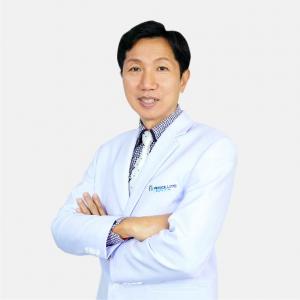 นพ.วิทย์ สมบัติวรพัฒน์ พบ.
สำเร็จการศึกษาจากจุฬาลงกรณมหาวิทยาลัย
การศึกษาและอบรมต่อเนื่อง
ปี2018 ประกาศนียบัตรโฮมีโอพาทีย์พื้นฐาน

ปี2017 ประกาศนียบัตรการรักษาด้วยฮอร์โมน

ปี2016 ประกาศนียบัตรเซลบำบัด

ปี2015 ประกาศนียบัตรคีเลชั่น

ปี2014 อบรมเชิงปฏิบัติการออกซิเดชั่นเธอราปีย์และโอโซนบำบัด ซานฟรานซิสโก
ภารกิจปัจจุบัน
แพทย์ประจำในเครือแอ็บโซลูทเฮลธ์กรุ๊ป
In the life of a patient or someone who wants to prevent illness, if he has a chance to be treated with integrated medicine, he has a good option for his life, especially if he has a physician who is ready to provide information about everything the patients want to know without asking. Every explanation is clear and easy to understand, including suggestions and the most appropriate treatment. He leaves the choice for treatment to the patient
Dr. Wit Sombatworapat, MD., an experienced physician in integrative and anti-aging medicine, is very experienced and talented. He never stops learning. He always signs up for training both in Thailand and abroad such as Oxidation Therapy and Ozone Therapy Workshop in San Francisco, USA, Certified Chelation, Certified Cell Therapy, Diploma in Hormone Therapy, and diploma in Basic Homeopathy, etc.
Always ready to learn
Ten years ago, Dr. Wit was a dermatology physician at the same time he was learning about acupuncture and pulse diagnosis. He started to be interested in alternative medicine because from his experience as a physician, he thought that current treatment was not enough. Many times, treatments just deal with the symptoms, not the cause of the illness. Moreover, he has had a chance to learn about integrative medicine that combines modern medicine with alternative medicine for each patient. He realized that it was very interesting to learn. At that time, it was the beginning of this technique. However, Dr. Wit dedicated himself in learning from different sources as there were not as many research methods as there are today. The important person who helped him learn in many different aspects was Dr. Chatchai Sribundit, who is a true expert in integrative medicine in many ways.
Atherosclerosis comes with age…but we don't need to wait until it happens.
Primarily, we must take care of the veins and body, because if comparing to a car that needs a check-up for every part every 10,000 km, a sixty-year-old person might be 60,000 km that has never had a check-up on his body. Do we need to wait until we get sick? You had your car checked regularly but what do you wait for with your body? Do you wait until Atherosclerosis occurs? or until you get sick? Dr. Wit always recommends patients to do Chelation to clear out veins and metal toxins. According to studies in USA, the effectiveness and safety are confirmed. He informs patients about useful treatments to make them aware.
Disease of degeneration…can be repaired and not just for reducing symptoms.
Apart from treating patients with integrated medicine, there are many patients who are treated for degeneration such as heart and the veins as well as brain and nervous system related diseases. Dr. Wit once said that imagine a patient with Alzheimer disease or Parkinson's disease who only takes medication every day to stabilize the symptoms. Later, their brain will gradually decline while the medication effect also decreases. Isn't it better if we have a technique that can regenerate cells and repair brain cells so that it can restore by itself without depending on medication? It is a pity that this knowledge created ten years ago in Germany is not used in hospitals. Our medical team has studied the techniques of cell therapy and use it with patients. This is one of Dr. Wit's pride to be part of Absolute Health.
Paying attention to every detail of treatment and feeling
Dr. Wit said, "Looking back to the beginning of studying integrative medicine such as vein detoxification, cell therapy, and kidney detoxification, I asked myself if these actually exist! I only knew about intestine detoxification. This made me realize that even as a physician, we don't know about all these things. What about general people? How do they know about it? How can I help them learn about these techniques?"
Therefore, after Dr. Wit studied about the true benefits of different techniques with confidence and trust that it is useful for patients, he created a presentation program to use as a tool to explain each step of treatment so that patients can understand and clearly see the picture. It's not just about listening and accepting the treatment and then asking the staff again after leaving the examination room. If doing so, the patient might not receive the complete information as receiving it from the physician. When patients clearly understand the information, they can easily decide whether to receive the treatment. It gives benefits to no one else but the patient. Moreover, that knowledge can be beneficial to other physicians as well.
Physicians just recommend and treat, not make decisions.
In every treatment, apart from expertise and experience, Dr. Wit also focuses on the patients' feelings. He gives precise and understandable information without pressure because he always says that he is a physician who is ready to recommend the best way possible for treatment, but the decision to take it lies in the patient's hands. Everyone has different reasons in life but everything can be brought into consultation. Together, we can plan and modify the treatment so that patients receive good treatment that fit the circumstances in their lives.
Build life capital
We can say that Dr. Wit's life is dedicated to taking care of patients because regardless of time, he remains healthy. He always come up with innovation to be learned even though his peers are already retired. The simple reason behind his good health is that what he recommends to patients, he actually practices. He always says that everyone can build life capital for themselves. If one wants to be healthy, start with three aspects: 1. Food (Vegetable and fruits), 2. Exercise, and 3. Get enough rest (Sleep early). For other supplements, such as detoxification and cell repair, consult with the physician. However, to take care of our health, we need to do the basics by ourselves first and then add some supplements.
**************
Turn Back