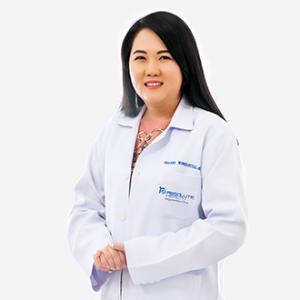 ORANEE   WIBULOUTAI,  MD.
Graduated  from Faculty of Medicine Ramathibodi  Hospital, Mahidol University.

Certificate  of attendance, American  Board of Anti-Aging and  Regenerative Medicine.

ACAM's  Certified  Chelation Therapy (CCT), American  College for Advancement in Medicine (ACAM)

Certified  Chelation Therapy,  Chelation Medical Association,  THAI.

Certified  Cell Therapy,  Association of Cell  Therapy, THAI

Certified  Fellowship Program  in Dermatology, Suphannahong  Institute of Dermatology.

Integrative  Medical Doctor, staff, Absolute  Health Clinic
Dr. Oranee Wibuloutai is an experienced physician in Integrative and Anti-aging Medicine and is a highly valued team member of the Absolute Health Regenerative Clinic.
She is a physician who focuses on the in-depth understanding of the disease and solving it from its roots instead of only treating just the medical symptoms.
She strongly believes that all patients deserve the best treatment, in order to optimize his or her health. Being kind, passionate, knowledgeable, and highly talented in her field of expertise brings about a huge amount of benefit to her valued patients.
Learning new things to give the best treatment
As mentioned above, Dr. Oranee is an experienced physician in Integrative and Anti-aging medicine. During her clinical career, she gained plenty of experience as a general physician treating patients with general illnesses, as well as being involved in the cosmetics and anti-aging field. She has a keen interest in various medical innovations and techniques other than modern medicine as she has earned various other credentials and certifications from different medical segments.
Dr. Oranee is also keen on constant learning and development.  Whenever she wants to gain more insights on Integrative medicine, she normally discusses and shares her thoughts with her mentor, Dr. Chatchai Sribundit who is also the founder of the Absolute Health Group and a key figure in Integrative medicine here in Thailand. By doing so, it has broadened her horizons by opening up a completely new world. It has allowed her to see new forms of treatments and learn techniques that yield impressive results.
Taking care of all aspects of treatment
In every case, Dr. Oranee has the principle that patients must be managed in the hands of experts in order to achieve the best treatment outcome and benefit. She believes in helping patients in every way possible until they achieve their optimal health goal. She dedicates her time to provide patients with an in-depth consultation. In addition, she probes to find out about every aspect of their life to determine the main goal of the treatment, and analyze the root cause of the illness.
Only after obtaining all in-depth information, she will formulate a treatment that is personalized and specifically fit an individual patient best. Dr. Oranee works with heart and empathy. She considers every detail including financial factors and therefore plans her treatment model so as not to burden her patients further. Apart from that she also looks into the lifestyle and environmental factors that may be key in causing the problem and solve them. Her commitment goes beyond her treatment scope and she always standby by as a pillar of support for her patients.
Happiness is Priceless
Dr. Oranee treats her patients like family. She feels extremely happy when she sees her patients recover. The warmth in her work together with a good medical technique through Integrative medicine has helped patients recover from many diseases, including help manage incurable ones such as SLE and allergies. Through her experience, Dr. Oranee has seen the benefits Integrative medicine has brought to her patients. Many can now live normally and enjoy a good quality of life again.
We often overlook the nature of the body
People tend to take for granted things that are close to them, just like our own bodies. Most people overlook the fact that our body can effectively heal itself. Although there are many external risk factors that can cause imbalance to the body, we can easily manage and overcome them by choosing our lifestyle wisely.
Preventive measures such as avoiding health-damaging environments, maintaining good health, creating a balanced state for our body, choosing the treatment that enhances self-healing, and focusing mainly on organic intake can bring about plenty of benefits. These are just some examples of preventive solutions that everyone can use as a guide.
Credentials and certifications
Below are some of the certifications and credentials that Dr. Oranee has achieved throughout her career:
Certificate of Attendance, American Board of Anti-Aging and Regenerative Medicine
ACAM's Certified Chelation Therapy (CCT)
American College for Advancement in Medicine (ACAM)
Certified Chelation Therapy
Chelation Medical Association, Thai
Certified Cell Therapy Association of Cell Therapy, THAI
Certified Fellowship Program in Dermatology, Suphannahong Institute of Dermatology
Turn Back