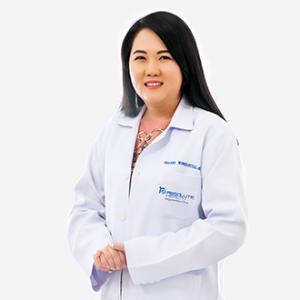 ORANEE   WIBULOUTAI,  MD.
Graduated  from Faculty of Medicine Ramathibodi  Hospital, Mahidol University.

Certificate  of attendance, American  Board of Anti-Aging and  Regenerative Medicine.

ACAM's  Certified  Chelation Therapy (CCT), American  College for Advancement in Medicine (ACAM)

Certified  Chelation Therapy,  Chelation Medical Association,  THAI.

Certified  Cell Therapy,  Association of Cell  Therapy, THAI

Certified  Fellowship Program  in Dermatology, Suphannahong  Institute of Dermatology.

Integrative  Medical Doctor, staff, Absolute  Health Clinic
A physician who treats more than just the illness because expertise should come with understanding. Patients need the best treatment, but many times there is something in life other than the body's power that is limited. So being treated with a talented and understanding physician who adjusts treatment to align with other aspects of life is someone who holds the patient's heart.
Learning new things to gain ultimate readiness
Dr.Oranee Wibuloutai, MD., an experienced physician in integrative and anti-aging medicine, has experience as a general physician treating patients with illness, as well as a cosmetics and anti-aging physician. She is interested in various techniques other than modern medicine as she has earned Certificate of Attendance, American Board of Anti-Aging  and Regenerative Medicine; ACAM's Certified Chelation Therapy (CCT), American College for Advancement in Medicine (ACAM); Certified Chelation Therapy, Chelation Medical Association, Thai; Certified Cell Therapy Association of Cell Therapy, THAI; Certified Fellowship Program in Dermatology, Suphannahong Institute of Dermatology; and Intergrative Medicine Doctor, staff, Absolute Health Clinic to fulfill what modern medicine cannot cure so that patients have more options.
When she needed to gain more knowledge in integrative medicine, she thought of Dr.Chatchai Sribundit from Absolute Health. That opened up a completely new world for her allowing her to see unseen treatments and learn the unknown, and the results were impressive. That was the reason she chose to treat her patients with integrative medicine until now.
Taking care all aspects of treatment
In every case, Dr.Oranee has the principle that the treatment must be expert treatment for the best benefit of the patient. It means she has to help the patient as much as she can in every way until they recover, giving time to provide consultation, finding out about every aspect of their life to determine the main goal of the treatment, and analyze the root cause of the illness. After obtaining in-depth information, she will design a treatment that is the best and customized for each person. The treatment design depends on the financial status of the patient as well to balance the treatment with other aspects of life. She then becomes like a traveling partner with the patient who is there to walk side by side with them.
Priceless happiness
Dr.Oranee treats her patients just like her relatives and when we see our relatives recover from an illness, we are certainly happy. The warmth in her work together with a good medical technique like integrative medicine can help patients recover from many diseases, including incurable diseases for general treatment such as SKE and allergies. However, integrative medicine can repair and restore the root of the disease to make it better, which brings joy to the doctor. Other than making Dr.Oranee happy, the direct benefit goes to the patient when they recover or the illness is reduced, meaning the patient can live normally and have a good life again. 
The nature of the body…that we often overlook
Sometimes we overlook what is close to us, just like our body. Most people take for granted the important fact that our body can effectively heal itself. Although it is disturbed by water, air, food, or our habits, we can take care of our body if we know how to choose our lifestyle wisely. This includes avoiding health-damaging environments, taking care of ourselves to prevent from getting sick, creating a balanced state for our body, and choosing treatment that enhances self-healing and focuses mainly on allowing only organic substances to enter our body. These are premium solutions that everyone can do to take care of themselves.
Turn Back