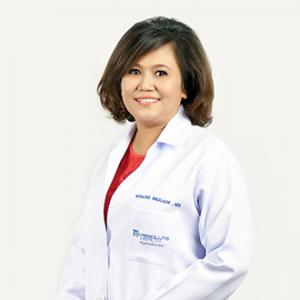 Medical Director, an experienced physician in integrative and anti-aging medicine
Dr. Supajee Srigade, MD.                                                                        
Medical Doctor License No. 17964
EDUCATION BACKGROUND
1992   Doctor of Medicine at Chiang Mai University
1994-1996 Fellow in Dermatology at Suphannahong Dermatologic Clinic, Bangkok  Thailand
1998  Visiting Doctor and Fellow in Dermatology at Department of Dermatology of IUPUI University, school of medicine, Indiana, USA. Visiting Doctor at Department of Dermatology of Emory University Hospital, Atlanta, Georgia, USA.
2003   Board certified in Family Medicine
2007 – 2008 Certificate of Attendance The Fellowship in Anti- Aging & Functional Medicine Module I- IV of The Austral Asian Academy of Anti – Aging Medicine
2007-2009 Attend Conference of Anti- Aging and Regenerative Medicine of American Academy of Anti -Aging Medicine
2009  Diplomate of American Board of Anti –Aging  and Regenerative Medicine
2011 Board certified of American Board of Anti –Aging  and Regenerative Medicine
DUTY AND POSITION
1992    Work at Department of Community Medicine, Central Hospital Bangkok, Thailand
1993   General Practice at Chularat 3 Hospital, Samutprakarn
1994   Consulting Doctor at Pan Clinic
1994-1996   Residency Doctor at Suphannahong Dermatologic Clinic, Bangkok
1997-1998   Dermatologist at Ratchataewee Poly Clinic and Pan skin Clinic, Bangkok
1999-Present  Dermatologist at Department of Dermatology Sikarin Hospital (Part-Time),
Director and Dermatologist at Suphi Clinic Minburee, Bangkok
2006  Dermatologist at Ruamrudee Wellness Clinic
2007- Present   Medical Director of Absolute Health Group
SOCIAL POSITION
2005   Member of Rotary Club of Bangkapi, Bangkok, Thailand
2007   Director of Club Administration of Rotary Club of Bangkapi, Bangkok, Thailand
2008 -2010  Director of Community Service of Rotary Club of Bangkapi Bangkok , Thailand
Dr. Supajee is the Medical Director of the Absolute Health Regenerative Clinic. She is highly experienced in the field of Integrative and Anti-aging (specializes in dermatology and cosmetics) medicine. Throughout her career as a physician, in her own words, she has come to terms with the following:
"Believe it or not! Human beings actually need only a few things in life. If we talk about health, I believe that everybody wishes that they and their beloved ones are disease-free, in good health plus enjoying good quality of life, remain feeling and looking youthful".
As she matures into her career, Dr. Supajee's perspectives on conventional pathways changed. She then realized that the combination approach of Integrative medicine is the way forward and can be the driving factor in attaining the needs of her patients. Dr. Supajee's goal is to provide the best ever possible healthcare for everyone.
On a personal note, Dr. Supajee is a very realistic individual. She strongly believes that a good quality of life, good health, and a youthful appearance are all interrelated. One of her greatest worries is her parents. Like many people, she wants to be able to help her parents maintain great health and optimum quality of life. Now her goal in life is to pursue the optimal health pathway not only for her parents but also for all her patients.
To Dr. Supajee, the answer to the above is Integrative medicine. Many research studies have shown that the Integrative medicine pathway has the ability of preventive health management.  Through this practice, physicians use vitamins and supplements to slow the process of degeneration. Together with medical innovation and her experience in the field of anti-aging medicine, Dr. Supajee uses the non-toxic approach such as high-quality vitamins to help maintain her patients' appearance and for effective overall treatment.
Beauty and wellbeing
Most patients come to see Dr. Supajee for her expertise in the field of Anti-aging. Their key concerns are such as staying youth and beauty maintenance which are normally addressed with treatments such as Fine Threat Lifting and Fibroblast. She also has patients who are concerns about healthcare such as detoxification, hormone balancing, boosting the body's systems, and more. Her well-balanced knowledge and skillful treatment plans have turned Dr. Supajee into one of the most sought-after physicians and a favorite amongst the patients.
The right solution to complete the missing puzzle
Dr. Supajee not only focuses on personalized treatment, but she also prioritizes the patient's needs. She only recommends things that bring benefit to her patients as she is determined to provide her patients with the only the best outcome possible.
Benefits of integrative medicine beyond "Health"
Many research studies have shown that treatment and preventive health management through Regenerative Medicine, has had many proven results and benefits. It does not just provide the route to recovery and good health, it also includes better quality of life in many ways. For example, one of her patients was diagnosed with coronary artery disease and refused any form of conventional treatment methods from the hospital. Dr. Supajee recommended Chelation therapy instead. At the end of the treatment, the patient felt clinically better compared to pretreatment. Post-treatment, he was able to work, carry out his daily activities without any form of restrain.
In a different case, a patient wanted to look good to gain more self-esteem and confidence after a series of depression. This patient wanted to do a facelift, therefore, Dr. Supajee recommended Fine Threat Lifting plus created a treatment plan which includes the maintenance of her general health. Consequently, the patient looked younger, felt more confident plus her mental and general wellbeing tremendously improved.  Through her experiences, Dr. Supajee standby by the fact that beauty, youthfulness, good mental health, and quality of life start from proper health management.
Regenerative Medicine: The complete function of treatment
Throughout thirteen years as a regenerative physician, Dr. Supajee has always said that "treatments through Regenerative Medicine had been her key success factor in treating and managing all her patients especially those with chronic illness. She has been able to help patients achieve plus maintain good health and youthfulness. Moreover, her treatment methods have helped manage her own family's health, reduce age-related diseases, and provided her patients with proven results."
Health tips
A very useful tip that Dr. Supajee usually shares is to change certain lifestyles and habits that can be a hindrance to good health. She emphasizes factors like stressed reduction, sleeping early, meditation, eating healthy (no additives, low carbs, high fiber), and exercise. She strongly believes that they are the foundation to good health and quality of life. With some determination, the changes can be done to make plenty of difference to a person's health.
Credentials and certifications
Apart from the experience in the various field mentioned above, below are some of the certifications and credentials that Dr. Supajee has accomplished throughout her career:
Certificate of Attendance The Fellowship in Anti-Aging & Functional Medicine Module I- IV of The Austral Asian Academy of Anti-Aging Medicine
Attended Conference of Anti-Aging and Regenerative Medicine of American Academy of Anti-Aging Medicine
Diploma of American Board of Anti-Aging and Regenerative Medicine
Board certified of American Board of Anti-Aging and Regenerative Medicine
Turn Back