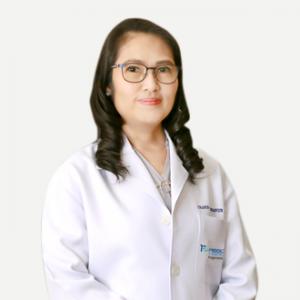 EDUCATION AND TRAINING
| | |
| --- | --- |
| 1992 | Graduated Doctor of Medicine from Chiangmai University |
| 1996 - 1998 | Fellowship in Dermatology at Lion Suphannahon Institute |
| 1999 | Certificated of Participation in Hair treatment and Hair removal, Ramathibodi hospital, Mahidol University |
| 1999  | Certificated of short course training in Update in Dermatology, Siriraj hospital, Mahidol University |
| 2003 | Board Certified in Family Medicine |
| 2004 | Certificated of Participation in Seminar on Aesthetic Mesotherapy, Society of Mesotherapy Management, Thailand |
| 2009 | Certificated of Participation in Advanced Cosmetic Dermatology, School of Anti-Aging and Regenerative Medicine, Mae Fah Luang University |
| 2014 | Certified of Participation in New look into Botulinum Toxin and Intradermal Injection (Hands on) , School of Anti-Aging and Regenerative Medicine, Mae Fah Luang University |
| | Certificate of Attendance of Art and Science in Dermatology, Juntendo University, School of Medicine, Tokyo Japan in collaboration with Mae Fah Luang University |
| 2015 | Certificate of Completion in Anti-Aging Sport and Wellness Medicine, School of Anti-Aging and Regenerative Medicine, Mae Fah Luang University |
| | Certificate of Attendance to the Scientific Program, International Congress in Aesthetic Dermatology(ICAD) |
| | Certificate of Completion in Advanced Nutrition for Wellness, The Center of Integrative Functional Nutrition and Wellness(IFNW) |
| | American Naturopathic Certification Board in Nutritional Wellness (ANCB) |
| 2017 | Certificate of Attendance in Practical Chelation Workshop, Health & Education Academics (Thailand) |
| 2018 | Certificate of Attendance in Diabetic and Complication Workshop, Health & Education Academics (Thailand) |
| | Certificate of Attendance in Food and Toxin Workshop, Health & Education Academics (Thailand) |
| | |
WORK EXPERIENCE
| | |
| --- | --- |
| 1992 – 1994 | Doctor for General Practice at Psychiatric  Hospital, Khonkhan |
| 1994 – 1999 | Dermatologist at Pan and Rajdhevee Skin Clinic |
| 1999 - 2000 | Dermatologist at Dermcare Clinic |
| 2000 - 2018 | Dermatologist at Anchan Clinic |
| Present | Medical Doctor at Absolute Health Regenerative Clinic |
| | |
| | |
| | |
Good treatment does not finish at the end of a treatment program. It creates the right and sustainable self-care for patients Every patient expects caring treatment with understanding from a determined physician who is willing to find health solutions for the best benefit of the patient.
Dr.Chantana Somphadung, MD., is an experienced physician in integrative and anti-aging medicine who has earned certification and qualifications in Board Diploma in Anti-Aging Medicine (Great distinction); The World Society of Anti-Aging Medicine, Certificate of Attendance to the Scientific Program, International Congress in Aesthetic Dermatology(ICAD); Certificate of Completion in Advanced Nutrition for Wellness, The Center of Integrative Functional Nutrition and Wellness(IFNW), American Naturopathic Certification Board in Nutritional Wellness (ANCB); Certificate of Attendance in Practical Chelation Workshop, Health & Education Academics (Thailand); Certificate of Attendance in Diabetic and Complication Workshop, Health & Education Academics (Thailand); Certificate of Attendance in Food and Toxin Workshop, Health & Education Academics (Thailand). She is determined to be a physician who is able to truly help patients at the root of an illness, not just the symptoms.
Doing everything with reason and learning deeply for the best benefit of patients
From her experience in treating patients with skin problems or rashes from allergies, Dr.Chantana realized that she could not completely cure the patient. They needed further treatment and steroid medication to suppress the symptoms. She, therefore, did further studies and gained information about Leaky Gut Syndrome, which affects the body's immunity causing rashes. However, this cannot be cured externally only, the body's internal systems need to be taken care of at the same time.
Later, she pursued a master's degree in anti-aging science to open up further perspectives of treatment. This was an opportunity for her to learn new things and to delve deep into the cellular level and chemical reactions of the body, which help treat chronic diseases more than medication. 
Combining for well-rounded treatment
The treatment at Absolute Health, an integrative medicine center, is guided by integrative medicine combining modern and alternative medicine together for individual patients. It is a combination of techniques for the right treatment including anti-aging medicine, which focuses on treatment and prevention, regenerative medicine, which focuses on restoration, and advanced technology to cover all aspects of treatment at the root cause of an illness. 
Working at Absolute Health, Dr.Chantana earns happiness and has fun every day. She has so much fun because she can learn new things every day and happiness comes while she treats patients. When her patients with cancer recover, she is even happier because the word "cancer" resembles being in despair. However, patients at Absolute Health are full of support because we work as a team. So, we can help patients find the right solution, making treatment even more effective.
To people with cancer, do not give up taking care of yourself 
Mostly, Dr.Chantana treats patients with cancer, both those who are in the beginning stages and who have undergone Chemotherapy or Radiation Therapy. Integrative medicine works perfectly with cancer treatment because it uses organic extracts and technology to restore cancer cells and create a strong immunity to help the body get rid of cancer cells better, together with detoxification. What's remarkable about Absolute Health is information about cancer is always updated, and the medical team possess the expertise and experience in Integrative Oncology, which enhances cancer treatment in a more effective way.  
Personalized treatment 
Dr.Chantana believes that every treatment is aimed at making the patients' lives happy, and that treatments leading to the best benefits are not provided by the physician only, but from the collaboration between the physician and patient. Discussion, mutual understanding and listening to the needs of patients are prioritized by Dr.Chantana, in order to personalize the treatment and provide proper recommendations according to the patient's lifestyle. She always provides an explanation about issues that need to be taken care of, so that patients see the facts and benefits of self-care. She not only cares for patients during the treatment, she is also concerned about their future. She usually provides patients proper guidelines for self-care at the end of the treatment. She believes that patients can also treat themselves without a physician because patients are their own best physician.
Impressive treatment
Every treatment impresses her. She recalls one case where "a patient had undergone surgery and radiation therapy for ovarian cancer. After five years, she found out she had lung cancer so she underwent another surgery and received treatment with focused medicine. However, a Pet Scan later revealed that she still had cancer cells." 
So she reached out to Absolute Health and chose the Integrative Oncology Program. She underwent detoxification with cancer destroying medicine and immunity restoration, and IPCT treatment using low dose insulin and curcumin to destroy the cancer cells, along with diet control. After four months of treatment, the blood tests showed that the tumor markers had decreased, and the Pet Scan showed that the cancer tumor had disappeared. This case really brought her joy because she could see that the patient was really happy with the treatment results. Although the cancer treatment was over, she reminded the patient to continue to take care of herself.
Health care technique
In treatment, there are cases that need health care and those that need disease treatment. Dr.Chantana usually suggests an easy self-care routine to every patient. For those who are not ill, she emphasizes a fresh, clean and non-toxic diet, vegetables over flour, as well as avoiding sugar, alcohol, and smoking. She recommends regular exercises and enough sleep (not later than 10pm). For those who are ill, the right care needs to be practiced, focusing on the root of the disease and not just the symptoms. Because curing the root not only gets rid of the disease, it can also prevent a more serious one. Good health can be obtained through the right care and diseases can be destroyed through the right treatment.
Turn Back