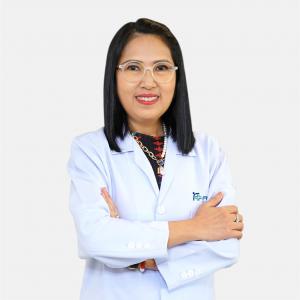 EDUCATION AND TRAINING
| | |
| --- | --- |
| 1992 | Graduated Doctor of Medicine from Chiangmai University |
| 1996 - 1998 | Fellowship in Dermatology at Lion Suphannahon Institute |
| 1999 | Certificated of Participation in Hair treatment and Hair removal, Ramathibodi hospital, Mahidol University |
| 1999  | Certificated of short course training in Update in Dermatology, Siriraj hospital, Mahidol University |
| 2003 | Board Certified in Family Medicine |
| 2004 | Certificated of Participation in Seminar on Aesthetic Mesotherapy, Society of Mesotherapy Management, Thailand |
| 2009 | Certificated of Participation in Advanced Cosmetic Dermatology, School of Anti-Aging and Regenerative Medicine, Mae Fah Luang University |
| 2014 | Certified of Participation in New look into Botulinum Toxin and Intradermal Injection (Hands on) , School of Anti-Aging and Regenerative Medicine, Mae Fah Luang University |
| | Certificate of Attendance of Art and Science in Dermatology, Juntendo University, School of Medicine, Tokyo Japan in collaboration with Mae Fah Luang University |
| 2015 | Certificate of Completion in Anti-Aging Sport and Wellness Medicine, School of Anti-Aging and Regenerative Medicine, Mae Fah Luang University |
| | Certificate of Attendance to the Scientific Program, International Congress in Aesthetic Dermatology(ICAD) |
| | Certificate of Completion in Advanced Nutrition for Wellness, The Center of Integrative Functional Nutrition and Wellness(IFNW) |
| | American Naturopathic Certification Board in Nutritional Wellness (ANCB) |
| 2017 | Certificate of Attendance in Practical Chelation Workshop, Health & Education Academics (Thailand) |
| 2018 | Certificate of Attendance in Diabetic and Complication Workshop, Health & Education Academics (Thailand) |
| | Certificate of Attendance in Food and Toxin Workshop, Health & Education Academics (Thailand) |
| | |
WORK EXPERIENCE
| | |
| --- | --- |
| 1992 – 1994 | Doctor for General Practice at Psychiatric  Hospital, Khonkhan |
| 1994 – 1999 | Dermatologist at Pan and Rajdhevee Skin Clinic |
| 1999 - 2000 | Dermatologist at Dermcare Clinic |
| 2000 - 2018 | Dermatologist at Anchan Clinic |
| Present | Medical Doctor at Absolute Health Regenerative Clinic |
| | |
| | |
| | |
Good treatment does not finish at the end of a treatment program. It creates the right and sustainable self-care for patients Every patient expects caring treatment with understanding from a determined physician who is willing to find health solutions for the best benefit of the patient.
Dr. Chantana is a highly experienced physician in Integrative and Anti-aging Medicine with the Absolute Health Regenerative Clinic.
She strongly believes that a good treatment plan does not finish at the end of a treatment program. Instead, treatment must be sustainable so that the patients can experience optimal efficacy.
She truly understands that every patient expects optimal treatment and therefore, treatment efficacy and long-term health solutions are the keys to providing the patient with optimal care.
Understanding the root cause
Treating patients with skin problems or rashes from allergies, Dr. Chantana realized that she could not completely cure the patient. They needed further treatment and steroid medication to suppress the symptoms. She then did further research on Leaky Gut Syndrome, which affects the body's immunity causing rashes. With her in-depth studies, she realized that the cure is not only external but in fact, the whole body's internal systems also need to be taken into consideration.
Later, she pursued a master's degree in anti-aging science to open up further perspectives of treatment. This was an opportunity for her to learn new things and to develop a deeper understanding of treatments at the cellular level and chemical reactions in the body, which can also help manage health issues and treat chronic diseases.
Multi-prong treatment approach
Absolute Health Integrative Medicine Center has always taken a multi-prong approach to the patients' treatments. We understand that a combination of both modern and alternative medicinal treatment pathways plus techniques for the right treatment including anti-aging medicine is very important. We focus on treatment and prevention, regenerative medicine, restoration, and advanced technology to cover all aspects of treatment at the root cause.
Working at Absolute Health has allowed Dr. Chantana to be practice innovative medicine which helps in many ways improve patients' conditions.  Being able to touch and improve the lives of Cancer patients helps make Dr. Chantana's day. Together with the support of the Absolute Health team, Dr. Chantana has helped many patients find the most effective treatment and long-term health solution.
Fighting cancer - do not give up
Dr. Chantana has treated patients with various stages of cancer and those who have undergone Chemotherapy or Radiation Therapy. She emphasizes that Integrative medicine works perfectly with cancer treatment because treatments like detoxification, the use of organic extracts, and technology can help battle cancer cells and create a strong immunity to help the body get rid of cancer. 
Personalized treatment
Dr. Chantana believes that effective treatment needs to be a synergy between the physician and patient.  Discussion, mutual understanding, and listening to the needs of patients are prioritized by Dr. Chantana, in order to personalize the treatment and provide proper recommendations according to the patient's lifestyle.
She always provides an explanation about issues that need to be taken care of, so that patients see the facts and benefits of the treatment plan. She not only cares for patients during the treatment, but she is also concerned about their future. She usually provides patients proper guidelines for step-down care at the end of the treatment.
Benchmark
Dr. Chantana recalls one case where "a patient had undergone surgery and radiation therapy for ovarian cancer. After five years, she found out she had lung cancer so she underwent another surgery and received treatment with focused medicine. However, a PET Scan later revealed that she still had cancer cells."
The patient then reached out to the team at Absolute Health and chose the Integrative Oncology Program. Under the supervision of Dr. Chantana and the medical team, the patient underwent detoxification with cancer destroying medicine and immunity restoration, and IPCT treatment using low dose insulin and curcumin to destroy the cancer cells, along with diet control. After four months of treatment, the blood tests showed that the tumor markers had decreased, and the PET Scan showed that the cancer tumor had disappeared. This case really brought back a very positive memory because she could see that the patient was really happy with the treatment results.
Health management techniques
In treatment, there are cases where health management such as proper diet, lifestyle adjustments are needed and there are also those that actually need therapies and medicaments for disease treatment. For those who are not ill and want better health, Dr. Chantana, emphasizes the following; a clean and non-toxic diet, vegetables over the flour, avoiding sugar, alcohol, and smoking.
She recommends regular exercises and sufficient rest through quality sleep (not later than 10 pm). For those who are battling illnesses, the right care needs to be practiced, focusing on the root cause of the disease and not just the symptoms. Curing at the root cause not only gets rid of the disease but can also prevent a more serious one. Good health can be obtained through the right care and disease management for a better quality of life. 
Background
Dr. Chantana Somphadung, MD., is an experienced physician in Integrative and Anti-aging Medicine. She has the following certifications and credentials:
Certification Board Diploma in Anti-Aging Medicine (Great distinction)
The World Society of Anti-Aging Medicine
Certificate of Attendance to the Scientific Program
International Congress in Aesthetic Dermatology (ICAD)
Certificate of Completion in Advanced Nutrition for Wellness
The Center of Integrative Functional Nutrition and Wellness (IFNW)
American Naturopathic Certification Board in Nutritional Wellness (ANCB)
Certificate of Attendance in Practical Chelation Workshop, Health & Education Academics (Thailand)
Certificate of Attendance in Diabetic and Complication Workshop, Health & Education Academics (Thailand)
Certificate of Attendance in Food and Toxin Workshop, Health & Education Academics (Thailand)
..................................
Turn Back