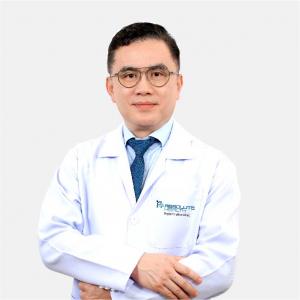 Chief Executive Officer (CEO) and founder of Absolute Health Group Experience integrative medicine
CHATCHAI SRIBUNDIT, M.D.
Diplomate, American Board of Anti-aging and Regenerative Medicine
Diplomate, Family Medicine, The Royal Collage of
Certificate in Organotherapy and Autohaemotherapy

Certified Chelation Therapy (CCT), American College for Advancement in Medicine

Certificate in Accupuncture and TCM, Shanghai University
Certified Mesotherapy Pain Management , GUNA, Italy
EDUCATIONAL BACKGROUND
1991 DOCTOR OF MEDICINE, CHIANGMAI UNIVERSITY
1985 SECONDARY SCHOOL, MONTFORT COLLEGE, CHIANGMAI
1979 PRIMARY SCHOOL, MONTFORT COLLEGE, CHIANGMAI
POST GRADUATE STUDY AND TRAINING
2010 CERTIFIED CHELATION THERAPY, AMERICAN COLLEGE FOR ADVANCEMENT IN MEDICINE
2010 OXIDATION THERAPY, ACAM, LAS VEGAS
2009 DIPLOMATE, AMERICAN BOARD OF ANTI-AGING AND REGENERATIVE MEDICINE
2007 CERTIFIED MESOTHERAPY PAIN MANAGEMENT, GUNA ITALY
2006 HOMEOPATHY AND PHYSIOLOGICAL REGULATION THERAPY, ITALY
2003 CERTIFICATE, ACCUPUNCTURE AND TRADITIONAL CHINESE MEDICINE
2002 DIPLOMA, FAMILY MEDICINE, The Royal College of Family Physicians
2001 CERTIFICATE, CHELATION THERAPY WORKSHOP, ACAM, USA
2000 HOMEOPATHY AND NATUROPATHY, SWITZERLAND
2000 NEUROTHERAPY AND ELECTRONEURAL THERAPY, GERMANY
1997 CERTIFICATE, ORGANOTHERAPY AND AUTOHAEMOTHERAPY, VITORGAN, GERMANY
1994 RESIDENCY, DEPARTMENT OF OBSTETRICS AND GYNECOLOGY, MOTHER AND CHILD HOSPITAL
1993 CERTIFICATE IN HOMEOSTATIC MEDICINE
1992 TRADITIONAL CHINESE MEDICINE, CHINA
1990 CRITICAL CARE MEDICINE, TOKYO JAPAN
SEMINAR, SHORT TRAINING, INTERNATIONAL MEETING, SPEAKER
2007 Fellowship, Functional Medicine , American Collage of Anti-aging and Regenerative Medicine
2006 Homeopathy, GUNA, Italy
2005 Stem Cell Therapy, Institute for Regenerative Medicine
2005 Energetic Medicine, Quantum Alliance, Mexico
2004 Keynote Speaker, Leadership Seminar, Ladhak, India
2004 Guest Speaker, Indian National Congress Party
2003 Guest Speaker, International Buddhist Youth Forum, Auckland, New Zealand
2003 Guest Speaker, Youth Leadership Seminar, Jakarta, Indonesia
2002 WFBY General Conference, Malaysia
2001 Guest Speaker, International Buddhist Youth Forum, Taipei, Taiwan
2000 Youth Leadership Seminar, BKK
2000 WFBY General Conference, BKK
2000 United Nations General Assembly, Special Session on Social Development, Geneva, Switzerland
2000 27th International Conference on World Peace "Building a Culture of Peace in the New Millennium, ESCAP, UNCC
2000 United Nation DPI conference as an NGO representative, UN Building, New York, USA
1998 General Conference, World Fellowship of Buddhist, Australia
1998 Annual Symposium, Korea Youth Buddhist Association, Korea
1998 Special Guest Speaker, Young Buddhist Association of Malaysia
1998 Special Guest Speaker, Young Men Buddhist Association, Nepal
1998 Guest, WFBY Sri Lanka, Colombo, Sri Lanka
1996 International Monastic Seminar, Wollongong, Australia
1995 Official representative, 3 weeks fact-finding trip "Current Buddhism in China" organized by Chinese Government, PRC
1994 Official representative, Pali Text Computerization Project, hosted by Ministry of Buddhasasana, Myanma
MEDIA AND TV PROGRAM
2009 Monthly guest speaker on "Hot Line Health Talk" Program
2009 Running Weekly health talk program "Oh Ho Oh Health" Truevision 8
2008 Weekly Speaker on "Health Motions" Satellite TV Program
2007 Weekly Speaker on Tan Lok Tan Dham Satellite TV Program
2007 Satellite TV Health Program Guest on Topic – Cell Therapy
2007 Satellite TV Health program Guest on topic – The Stem Cell Therapy
2006 Guest in the Chanel 11 TV program Topic – Allergy and Air Quality
2000 Interview, Journal of Alternative Medicine
CURRENT DUTIES AND POSITIONS
Guest Lecturer, Faculty of Anti -aging Medicine, Mae Fah Luang University Advisor, Bureau of Alternative Medicine, Ministry of Public Health Board Member, Chelation Medical Association of Thailand
CEO and Founder, Absolute Wellness Co., Ltd
CEO and Founder, Progenic Co., Ltd
President and Founder, Kid-D-Kids Co., Ltd
CEO and Founder, Cell Therapeutics Co., Ltd
Director, StemCell21, Co., Ltd
PAST DUTIES AND POSITIONS
1991 Physician 4, Department Of Health, Ministry of Public Health
1992 Physician 5, Department Of Health, Ministry of Public Health
1994-2004 Medical Director, Biomolecular Therapy Center Of Asia
2002 Guest Lecturer, Alternative Medicine, Mahidol University
2004 Medical Director, Areesamphan Clinic
2004 Chairman, Smile Consumer Marketing Co., Ltd
2005 President, Absolute Health Co., Ltd.
2006 Executive Director, Dreamteam Public Company Limited
2008 Chairman/CEO, Absolute Wellness, Co., Ltd.
2008 Chariman/CEO, Progenic Co., Ltd.
SOCIAL POSITIONS
1998 Member of Committee on Major Youth Issue, WFBY
1999 Assistant President of World Fellowship of Buddhist Youth
2000 Secretary General, WFBY
2002 Secretary General, WFBY re-elected
2003 Member of Subcommittee on Poverty Eradication, Committee on Internal Affairs, The Senate
2003 Member of Sub- committee on Moral Development, Committee on Education Religion Culture and Arts, The Senate
2004 Committee member, The National Olympic Committee ACADEMIC WORKS
1992 Researcher, WHO funded-project, The use of Ultrasonography detecting Iodine Deficiency Status in Thai Children
1993 Researcher, Ethical Achievement on Moral Training Course for School Children
1996 Researcher, Moral Achievement in Dhamma Quiz Contest Program for School Children
CHATCHAI SRIBUNDIT, MD has graduated from Faculty of Medicine, Chiang Mai University. He started his carrier as a physician at the Department of Obstetrics and Gynecology, Mother and Child hospital, Chiang Mai. After graduated, he extended his education and interest in field of Integrative Medicine, Regenerative Medicine, Functional Medicine and Anti-aging Medicine. He has been training on this field continuously in various countries on different approach such as Biomolecular Therapy, Orthomolecular therapy, Autohaemotherapy, Neurotherapy, Electroneural Therapy, Homeopathy, Phytotherapy, Chelation Therapy, Oxidation therapy, Cancer Immunotherapy, Cancer Gene Therapy, Cancer Viral Therapy, Energetic Medicine, Acupuncture, Mesotherapy.
He has been invited to give lectures and talks for several occasions including Medical University, Food and Drug Administration, Anti-aging Medicine Society, Thai Dermatocosmetic Society, Department of Alternative Medicine Ministry of Public Health etc. He writes regular articles and interviews for health magazine. He is also regular guest for "Hotline Health Talk" program on The Nation's TV programme.
Dr. Chatchai Sribundit, MD, Absolute Health Group's CEO and founder, is a leading expert in integrative and anti-aging medicine in Thailand. He is an acclaimed Professor of Medical Science who specializes in integrative and anti-aging medicine. He has long emphasized the important role that integrative medicine plays in today's general disease management and in many cancer-care programs.
In addition, he stands firmly by his 5 pillars of belief that consist of medical intervention, diet & nutrition, physical therapy & exercise, emotional wellness and education.
Dr Chatchai's philosophy is to probe deeply into the above factors and how they can greatly affect our health. He persists that it's vital to pursue the underlying cause of any disease and treating beyond just the symptoms so that natural healing power can be harness to restore and rejuvenate one's body.
"The more you learn, the more you understand and the more you search for the real thing"
If we ask about his inspiration for choosing integrative medicine, Dr. Chatchai once said, "Every physician learns intensively to defeat disease. As we go deeper, the details get broken down. Apart from surgery, most treatments use medication, which generally only relieves and stabilizes the symptoms. However, this does not actually fix the cause of the disease.
For example, medicine for diabetes does not cure diabetes but temporarily decreases sugar in the blood; medicine for osteoarthritis is used to temporarily decrease pain and irritation; medicine for high blood pressure is used to temporarily enlarge blood vessels to prevent the pressure from increasing to a dangerous level.
As mentioned, when we probe deeper, we realize that it does not cure the cause of an illness. Moreover, prolonged usage of these medications can cause chronic side effects that may cause other long-term secondary conditions such as kidney failure, Alzheimer's disease, and more."
Everything has its own value
Modern medicine has many advantages, but it also has limitations. Treatment for emergency conditions such as appendicitis, acute heart failure, accidents, and other emergencies, for example, necessitates the use of modern medicine. Some diseases, without it, can cause life-threatening situations or cannot be completely cured, resulting in life-long medical conditions. This is especially true for noncommunicable diseases (NCDs), which are primarily treated with modern chemical-based medicine. Having said that, many people die in the United States each year as a result of medication side effects, which is more common than dying as a result of major disease complications.
Dr. Chatchai, despite being a modern physician, believes that "modern conventional medication" is not a sustainable form of treatment. It does not encourage self-healing, which the human body has imprinted in the innate system.
An open-minded approach to learning and innovation
Dr. Chatchai is always ready to learn and deepen his knowledge. He is open minded to innovation and sees it as a benefit to his practice. He is well-versed in many fields, including Eastern medicine, Chinese medicine, acupuncture therapy, cell therapy, clinical toxicology, detoxification, prolotherapy (joints and tendons), homeopathy, and anti-aging medicine. In anti-aging medicine, for example, he focuses on hormone maintenance, gut-biotic balance, and energizing body cells through the use of vitamins, minerals, and natural extracts.
Throughout his life, Dr. Chatchai has been focusing on helping the public. He is constantly looking for ways to improve treatments and find the most efficient pathways to address the underlying causes of illnesses. Above all, he always has the people in his heart in mind.
A practice through various perspectives
Dr. Chatchai sees medicine as a spectrum with various shades of a rainbow. Medical knowledge, like the spectrum, combines many different elements. Each of them possesses exceptional qualities. None of the treatments should regard the others as ineffective. As a result, he has spent more than three decades amassing knowledge from various treatments.
The world of integrative medicine
Dr. Chatchai has a clear understanding of the knowledge he has gained through his studies and has been applying this knowledge to his own health as well as the health of his family, acquaintances, and patients. This led to the interest of fellow physicians, which sparked the start of "Absolute Health Integrative Medicine."
Dr. Chatchai has been refining his use of integrative medicine as treatment guidelines for nearly two decades. He employs them as a pillar of his practice, with the goal of illness prevention, lifestyle change, root cause treatment, cellular therapy, and body functional mechanisms such as energizing and detoxifying the cells, in order to promote self-healing of the body as well as mental enhancement.
Dr. Chatchai brings useful treatments from all over the world to his patients. Many times, patients are unaware of the treatments he employs and regard them as strange because the treatment technique is not commonly used in their area. These treatment methods, however, do exist and are widely used in places such as Europe. Above all, they have been proven to be extremely effective. Furthermore, Dr. Chatchai focuses on personalized medicine, which entails carefully selecting the most beneficial treatment for each individual in order to achieve the best results.
Enhancing sustainable development
Absolute Health's physicians are all highly qualified in integrative medicine, though they each specialize in their own field. Dr. Chatchai instills his knowledge and encourages them to pursue further studies locally or abroad, in addition to their knowledge of their own specialty. Medical staff and officers are regularly trained to ensure that they have up-to-date knowledge and can provide the best treatment and information to patients. Everyone in the Absolute team has the same goal: to help patients overcome their illnesses. For example, people in general are informed that diabetes is an incurable disease. However, there is actually a treatment for those who are determined to fight it.
Unforgettable experience
Every physician has a special case to share and so does Dr. Chatchai. He always recalls a particular case, which he thinks is unforgettable:
Dr. Chatchai was approached by the family of a patient suffering from Systemic Lupus Erythematosus (SLE). Both of the patient's lungs were infected, his eyes were not responding, his brainwaves were slowing, and his kidney function was gradually deteriorating. Overall, his condition was critical. His current treating physician stated that he could only live with the assistance of a respirator and would die if it became unplugged.
Dr. Chatchai began administering immunosuppressant injections to him, which were clinically thought to cause pneumonia. However, it was discovered that the first injection aided in the improvement of the patient's lungs. Following the second injection, both of his lungs began to function normally, his kidneys began to improve, and his oxygen levels stabilized. The patient recovered after receiving continuous treatment. Despite the fact that he requires a wheelchair, his brain function has returned to normal. He began walking after an eight-month treatment regimen with Absolute Health. He can now walk and run, and he enjoys living a normal life with his loved ones.
The above experience has always been embedded in his heart and mind. Being able to turn around a poor prognosis and help give someone a second chance is an incredible experience. Dr. Chatchai has always believed in the teachings of Buddha, meditation, and personal karma. He only wanted the best for his cherished patients. As the saying goes, "do all the good you can and you will receive all the blessings you require."
Committed to endless improvement
Even today, Dr. Chatchai is constantly learning and improving his treatment methods. Dr. Chatchai and his team of medical experts have transformed Absolute Health into not only a treatment center, but also a center of hope for those suffering from chronic and incurable illnesses, through trust and a special relationship with all of his patients. Dr. Chatchai understands that in order to provide the most efficient and effective treatment for the best outcome, medical treatment must evolve and keep up with the world's ever-changing health issues.
Emphasized for the best treatment
Dr. Chatchai is a physician and teacher who teaches integrative treatment to his students. He always emphasizes that physicians must keep the promise they made to the Father of Medicine: first, do no harm to the patient, and then be open to other types of knowledge for understanding and as a treatment option.
Patients must understand that illnesses stem from two major causes: physical and mental issues. There could be more mental health issues manifesting themselves through physical health. During an illness, patients should rely on themselves first and foremost, rather than solely on the physician, and choose a treatment that addresses the underlying cause of the problem.
This is due to the fact that most diseases are caused by (1) lifestyle, (2) toxic buildup in the body, and (3) stress and other mental issues. In addition, the formulation of the self-healing process should include detoxification, cell rejuvenation, mental care, and adopting a healthy lifestyle. Patients who follow these guidelines will be able to overcome any type of health crisis and experience a good quality of life.
Credentials and Qualifications
Dr. Chatchai Sribundit has studied and practiced various types of treatments extensively, and has received accreditation and qualifications from various institutes. Among his accomplishments are the following:
Diplomate, American Board of Anti-aging and Regenerative Medicine
Diplomate, Family Medicine, The Royal Collage of Family Physicians
Certificate in Organotherapy and Autohemotherapy
Certificate in Acupuncture and TCM, Shanghai University
Certified Chelation Therapy (CCT), American College for Advancement in Medicine
Certified Mesotherapy Pain Management
Fellowship Integrative Oncology
Fellowship Functional Medicine
.......................
Turn Back