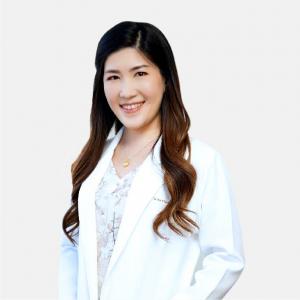 An experienced physician in integrative and anti-aging medicine
Dr. Kawisara Limapichat MD.
Education
-Master degree in Anti -Aging and Regenerative Medicine, Mae Fah Luang University, 2017
-American board in Nutritional wellness, 2017
-American board of Anti-Aging/Regenerative Medicine, ABAARM ,2015
-Certificate in Anti-Aging Sport and Wellness Medicine, School of Anti Aging and Recognerative Medicine, Mae Fah Luang University, 2014
-Certificate in attendance to Chelation therapy, Chelation Medical Association, Thai (CMAT), 2014               
-Certificate in recognition for participation in 3rd Introduction to Practical cell Therapy Workshop, 2013
-Certificate in attendance to Recent  Advance in Aesthetic Dermatology, 2012 
-Doctor of Medicine, Prince of Songkla University, 2009
Sustainable cosmetic treatment needs to integrate internal and external care
Dr. Kawisara Limapichat is a highly experienced physician in the field of Integrative and Anti-aging Medicine with the Absolute Health Regenerative Clinic.
She strongly believes that a sustainable or the maintenance of an aesthetic treatment needs to integrate and synergized with both the internal body function plus external care.
Being open to new medical innovations and clinical techniques have opened up Dr. Kawisara's scope of practice which in turn has added value and proven results for her clients.
In her time of practice, Dr. Kawisara has had experience serving several public hospitals. She realized that each day, many patients come in for management or treatment of chronic diseases such as high blood pressure, diabetes, high cholesterol, and more. The important point here is that the number of patients with these diseases are increasing but what she could do at that time was tell patients to take medicine or go on diet, which she knew was the conventional but not an optimal form of treatment.
From the day Dr. Kawisara began studying and caring for patients with the Integrative medicine approach, she realized that incurable diseases can be overcome. She realized that focusing on preventive care, is the way forward, unlike in the past when all of the education was about post-illness treatment. Moreover, Integrative medicine has helped her to be a physician with broader and deeper knowledge and understanding of her clinical management and techniques which has allowed her to take the multi-prong approach to patient care.  
Sustainable beauty inside and out
Dr. Kawisara is an expert in the field of Integrative medicine, Anti-aging, and Aesthetics. In her view, her specialties are complementary to each other as they are all clinically interlinked to create an attainable long-term benefit for her clients. With other typical cosmetic treatments such as Botox, Filler, or Laser, the results are only temporary.  With Integrative medicine, treatment goes deep into the cellular level and regenerates the body for optimal holistic care. In her own words, "when the body is healthy, the skin will be radiant on its own".
Simplicity is the key to effective treatment
One of Dr. Kawisara's key success factors is good patient communication. She strongly believes that it plays an important role in her treatment plans. Therefore, during her consultation sessions, a huge focus is put into clear and simple discussions without the use of medical jargon. In addition, she ensures that the environment where the consult takes place has a comfortable, destressing, and positively charged energy with factors such as lighting, aroma, furniture, and color tone in mind.
The needs and concerns of patients need to be identified and addressed each time in order to plan the most effective treatment. At the same, she not only treats what patients need, but she also provides guidelines that are useful for the patient's health to make the most of the treatment.
Apart from dedicating time to the treatment, Dr. Kawisara also prioritizes constant learning to keep up with medical innovation and various updated treatment techniques. She understands and acknowledges that as an Integrative and Anti-aging physician, she needs to have well-rounded knowledge and a deep understanding to create a treatment plan that fits perfectly with the patient.
Practicing what she preaches
Being an Integrative physician for Dr. Kawisara is not just about learning to teach or treat patients. Dr. Kawisara also strictly abides by her own guidelines and manages the health of her own family the same way. The fact is that the status of one's health goes into decline if he or she does not look after it and that applies to everyone. Therefore, to maintain overall good health, it is essential for everyone to focus on both the mind and body.
Certifications and credentials
Dr. Kawisara is always updating her knowledge and skills through constant learning. Attached below, are her certifications and credentials:
Master degree in Anti-Aging and Regenerative Medicine, Mae Fah Luang University
American Board in Nutritional Wellness
American Board of Anti-Aging/Regenerative Medicine
ABAARM; Certificate in Anti-Aging Sports and Wellness Medicine, School of Anti-Aging and Regenerative Medicine
Mae Fah Luang University; Certificate of Attendance to Chelation Therapy, Chelation Medical Association, Thai (CMAT) Certificate
Introduction to Practical Cell Therapy Workshop attendance certification
Certificate of attendance in Aesthetic Dermatology
Turn Back