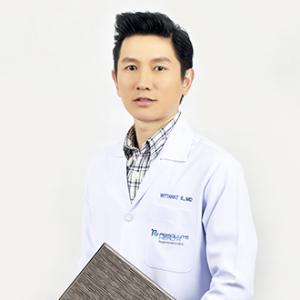 Dr.Wittawat Sithiwatcharapong,
ประวัติการศึกษา :
ปริญญาตรี แพทยศาสตร์บัณฑิต มหาวิทยาลัยเชียงใหม่ พ.ศ. 2544
ปริญญาโท  วิทยาศาสตร์มหาบัณฑิต เวชศาสตร์ชะลอวัย และฟื้นฟูสุขภาพ มหาวิทยาลัยแม่ฟ้าหลวง พ.ศ. 2556
การศึกษาอบรม :
คีเลชั่นบำบัด พ.ศ. 2553 นำเสนอเคสต่อที่ประชุมสมาคมการแพทย์คีเลชั่น พ.ศ. 2556 ได้รับประกาศนียบัตรผู้เชี่ยวชาญด้านคีเลชั่นบำบัด
เซลล์บำบัดเบื้องต้น พ.ศ. 2555
มณีเวชเพื่อสุขภาพ สถาบันสุขภาพเด็กมหาราชินี พ.ศ. 2556 , พ.ศ. 2557
หลักสูตรฝังเข็มสามเดือน กรมแพทย์ทหารบก รุ่นที่ 8 พ.ศ. 2557
การนวดตอกเส้นเพื่อสุขภาพ คณะแพทยศาสตร์ มหาวิทยาลัยเชียงใหม่ เมษายน พ.ศ. 2558
หลักสูตรอาชีวเวชศาสตร์สองเดือน รพ.นพรัตน์ราชธานี มิถุนายน – กรกฎาคม พ.ศ. 2558
Total body modification seminar, completion of module IV 2015
Bach Flower Remedies 2016
Reiki Level I&II and Master/Teacher Training 2017, license no. 10952025
ประวัติการทำงาน :
อาสาสมัคร ประจำศูนย์ปฎิบัติธรรมพลาญข่อย และโรงเรียนศูนย์พลายข่อย มิถุนายน พ.ศ. 2557 – มีนาคม พ.ศ. 2558
ปัจจุบัน :
แพทย์ประจำศูนย์การแพทย์บูรณาการ Absolute Health Regenerative Clinic สาขาเชียงใหม่
Everyone wants to see physician that is eager to learn and keeps themselves updated with endless health knowledge. At the same time, everyone wants to see a physician who looks at things that are beneficial for patients. If we can receive treatment from a physician with both these qualities, the treatment will be more than worth it.
Dr. Wittawat Sithiwatcharapong, MD., an experienced physician in integrative and anti-aging medicine, has always been curious and interested in integrative or alternative medicine. He also possess a Master Degree in anti-aging medicine. Through treating his patients with integrative medicine, he has gained more confidence that this technique helps patients physically as well as mentally. It can also be customized to fit best with individual patients.
Completing the missing piece
The reason Dr. Wittawat chooses integrative medicine is that modern medicine cannot cure all diseases. That means there must be other alternatives that can be a solution, which attracts the doctor to integrative medicine. If we compare integrative medicine to general medicine, it is like a family doctor who is ready to give general treatment to patients. The difference is that integrative medicine uses various techniques to treat patients in the best way possible, customizes various technique to fit a patient, and searches for the root cause of the disease to truly cure it.
Providing treatment and knowledge for sustainable care
Most patients who see Dr. Wittawat are those who take basic care of themselves so the best outcome can occur during the treatment in every case. In addition to various treatment methods, the doctor provides knowledge about the illness and personal advice on taking care of yourself. These recommendations are given according to a patient's lifestyle to make it harmonious and sustainable. What Dr. Wittawat always emphasizes is that "the best physician is ourselves" because we know ourselves the best. This makes patients realize the power of self-care and shifts them into a new mindset of taking care of themselves every day and not to wait!
Knowledge for treatment and the power of faith
Dr. Wittawat prioritizes learning because he sees that there must always be new treatment, so he needs to learn continuously and keep updated as much as possible so that he is equipped with different knowledge for treatment. He not only gains knowledge from academic sources, but patients are also an important source of knowledge for the physician as well.
Apart from his medical knowledge and experience, Dr. Wittawat continued learning more and more until being certified in Chelation Therapy. He has also studied basic Cell Therapy, Manee Therapy for health, three-month acupuncture course at Medical Department of Royal Thai Army, Lanna Massage Therapy for health at Faculty of Medicine, Chiang Mai University, two-month occupational medicine course at Nopparatrajathanee Hospita, including other training such as Total body modification, completion of module IV 2015, Bach Flower Remedies 2016, Reiki Level I&II and Master/Teacher Training.
The important thing in learning is not just for the treatment, it is also a tool in confidence, because Absolute Health, Chiang Mai Branch, has a lot of Thai and foreign patients who care about their health and regularly gain health knowledge. So if the physician cannot answer their questions or provide insightful information to the patients, the treatment might not go well and patients will lose their trust in the physician. On the contrary, if the physician can provide a wide range of information to patients, it will be beneficial to them and more trust is gained in return. The various knowledge acquired by Dr. Wittawat is useful for both the patient as well as the physician.
Work from heart
In every treatment, Dr. Wittawat treats patients just like his family. He always chooses the best and most appropriate things for the patient. Every moment in the treatment is a beautiful moment. It is the time when he listens to the problems patients have and when they share information. Dr. Wittawat fully dedicates his time in each examination to listen and identify the root problem as well as the patient's treatment goals. This provides the right treatment that is aligned with patient's needs, along with happiness that is full of value.
A person once asked Dr. Wittawat about an impressive case of his. He replied to that person saying, "Every case impresses me because every case was important." His answer impressed the listener and people around him even more.
Turn Back