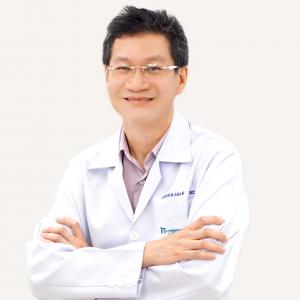 Experienced physician in integrative and anti-aging medicine
Theerasak  Mongkol, MD  
Diplomate, Thai Board of Orthopaedic surgery

Diplomate, Thai Board of Family Medicine.

Doctor of Medicine, Khon Kean University.

Certificate Orthopaedic and Pain, Hong Kong.

Certificate Team Physician development course, AFSM.

Certificate  Muscle, Falls, Fracture, Frailty and Osteoporosis Aeraph Clinic Esslingen, Germany.

Certified  attendance of Antiaging and Regenerative Medicine,Bangkok  

Clinical Attendance viscosupplement  therapy ,The Catholic University of Korea SEOUL ST.MARY HOSPITAL, South Korea
Education Background
1993 Doctor of Medicine, Khon Kean University
1987 Secondary School, Triamudom Suksa, Bangkok
1981 Primary School, Chonradsadornumrung, Chonburi
Medical Degree
2002 Diplomate,Thai  Broad of Family Medicine, The Royal Collage of Family Physicians of Thailand
1997 Diplomate, Thai Broad of Orthopaedic Surgery, The Royal Collage of Orthopaedic Suroeons of  Thailand
1993 School of  Medicine Faculty of Medicine Khon Kean University
Post Graduate Study
2016     Clinical Attendance viscosupplement  therapy ,The Catholic University of Korea SEOUL ST.MARY HOSPITAL, South Korea
2013      Certified of Attendance  Antiaging and Regeneative Medicine,Bangkok
2012 Certified Participation the Ninth Hong Kong International Orthopaedic Forum "Orthopaedic and Pain" ,Hong Kong
2011 Certified of Completion Minimally Invasive Surgery Spine Course 1 Microscope and High Speed Drill in Spine Surgery Workshop, Bangkok Hospital
2010 Certified of Attendance the Third Strong Bone Asia, TOPF
2009 Certified of Attendance The Second Live Surgery and Lecture of Full Endoscopic Lumbar Dissectomy, Faculty of Medicine Ramathibodi Hospital and Faculty of Science Mahidol University St Anna Hospital Germany
2009 Certified of Attendance  Muscle, Falls, Fracture, Frailty and Osteoporosis  Aeraph Clinic Esslingen, Germany
2008 Falls Prevention Guildline for  Aged.
2007 Certified team physician development course Asian Federation of Sports Medicine, AFSM
2008 Certified Fibromyalgia, TASP
Affiliaied Associations
Thai Medical Council of Thailand
The Royal Collage of Family Physicians of Thailand
The Royal Collage of Orthopaedics Surgeons of Thailand
The Medical Association of Thailand
Thai Association for the study of Pain
Thai Hip and Knee Society
Thai Orthopaedics Society for Sports Medicine
Specialists
      1. Orthopaedic surgery : trauma surgery,hip surgery,spine surgery
       2. Regenerative intervention orthopaedic pain specialist
       3. Regenerative injections  therapy
        4.integrative pain management
        5.neutraceutical supplement
Treatment needs to integrate understanding both in the techniques and patient's lifestyle.
Dr. Theerasak Mongkol, MD is an experienced physician in integrative and anti-aging medicine, who is determined in his passion and purpose as a specialized physician in Orthopedics, the same as he was on the first day he stepped into integrative medicine.
Despite his knowledge and experience, Dr. Theerasak has not stopped learning techniques in integrative medicine, specifically in the Orthopedics area, to be combined with his knowledge. As a result, many patients who suffer from Orthopedic problems, especially with pain, have lined up to see him in his seven years of work. What he always keeps updated is his knowledge. He is certified and qualified from the following institutes: Diplomate, Thai Board of Orthopaedic surgery; Diplomate, Thai Board of Family Medicine; Doctor of Medicine, Khon Kean University; Certificate Orthopaedic and Pain, Hong Kong; Certificate Team Physician development course, AFSM; Certificate Muscle, Falls, Fracture, Frailty and Osteoporosis, Aeraph Clinic Esslingen, Germany; Certified  attendance of Antiaging and Regenerative Medicine, Bangkok; Clinical Attendance viscosupplement therapy, the Catholic University of Korea SEOUL ST. MARY HOSPITAL, South Korea.
Complete treatment with overall perspectives.
The reason Dr. Theerasak chooses to be an integrative physician is that he met many patients in the past and he realized some truths. He noticed that all treatments are not the real solutions. Most patients are treated for their symptoms, not the cause. Since there are no tools to tackle the root problem, physicians can only treat with medication or physiotherapy, which can be called as a treatment in a certain level, but not definite.
Since he has become an integrative physician for seven years, Dr. Theerasak has had a chance to treat patients and focus deeply on the cause of illnesses and is equipped with different treatment techniques and tools, which can be used with patients to treat the cause, such as H.O.T treatment or cell repairing treatment which tackle the direct cause of the illness.
Moreover, his happiness that is beyond the treatment is that he is very impressed with Dr. Chatchai Sribundit, who has deep knowledge in the treatment and always keeps himself updated with the trends, including integrative medicine. This is what maintains his endless learning. It can be said that he is full of happiness and fun.
Goals of the treatment
Dr. Theerasak aims to help his patients recover from illness and be happy. He hopes that they can take care of themselves and understand life in terms of food, exercise, emotions and mind, immunity and vitamins used to avoid medication and chemical dependence.
Understanding patients help select the right treatment.
In every treatment, Dr. Theerasak provides custom consultation and explains the details according to each individual patient. It is because each patient has a different level of understanding. Some people are determined to take care of themselves, some come with different goals such as to get rid of an illness and to find a better solution in life, or to experiment.
His treatment principal is to treat patients while creating a friendly connection with patients to lower their worries. He gives enough time to talk with the patients as well as their caregivers to explain treatment information in detail to create a mutual understanding between physician, patient, and caregiver. When patients trust and open their mind to change their lifestyle towards good health, it is a true benefit for the patient themselves.
Value of pure nature
Most patients see Dr. Theerasak mainly with orthopedic problems so focused injection becomes his option because it is practical, safe and effective. There are many methods in spot injection such as Prolo Therapy, injection to repair tendon, injection to strengthen tissue and injection on acupunctured spots to cure different illnesses such as allergies, fatigue, headache. Moreover, there is a neural spot injection, Thera Therapy, and spot injection for cell repair. Mostly, the materials for spot therapy are natural solvents and vitamins without steroids and chemicals.
The main highlight of integrative medicine is providing the most benefit to the patient because it is all natural and non-chemical. There are no residuals and it can help the patient recover more easily from pain.
Healthy tips everyone can do
Dr. Theerasak always encourages his patients to realize that illnesses relate directly to them, not the physician, because the physician is just a guide who suggests the right methods for self-care only, just like with many other illnesses. If patients can be aware and take care of themselves, they can recover, except for specific cases that need to be treated by the physician. However, it is very important to choose the techniques that can really treat the root cause of the illness. After all, if everyone lives their lives based on the five principles: food, air, emotions, exercise, and excretion, they will certainly find the path to good health.
Turn Back