Pictured above, Absolute Health Chiang Mai, Chiang Mai Lakeland Village Estate.
Absolute Health, Chiang Mai, is one of the top Integrated Healthcare state-of-the-art facility in Chiang Mai.
We have now moved to a new location to expand our healthcare plus patientcare programs, diagnostic assessments capabilities, treatments plus services to cover a full range of medical conditions, protocols and platforms. Please find below a brief descriptions of our facility: 
A fully renovated COLON Treatment room with the latest closed-system setup that will help to increase the efficiency of the treatment and at the same time provide more convenience for the clients.
Expansion of the treatment zone area to enhance our service capacity and at the same time provide our clients with adequate privacy, serenity and convenience throughout their journey with us.
We have also added a double room VIP treatment zone to accommodate to clients who need that added privacy plus and the extra personal attention.
All our treatment zones are ergonomically separated from the main area. However, everything is under-one-roof and therefore, clients would not have to commute to a different building for other or extended treatments.
We have set aside ample and secure parking spaces for our high valued clients.
In addition, we designed and decorated our facility to be health-centric keeping in mind factors such as moods, tone, sense, space and texture to benefit our clients.
- The internal design genre has a touch of simple modern luxury and at the same time provides clients with a sense of but homeliness.
- Our external décor as mentioned above was planned with a health centered genre in mind.  We've planted trees in a fully landscaped garden setting to provide clients with a pleasant shady, tranquil and relaxed atmosphere.
With a new facility and up-to-date medical services, the team at Absolute Health ensure full client satisfaction. Apart from the above, we adhere to stringent clinical grade hygiene, safety and health protocols guided by international medical practice stands plus Ministry of Health guidelines.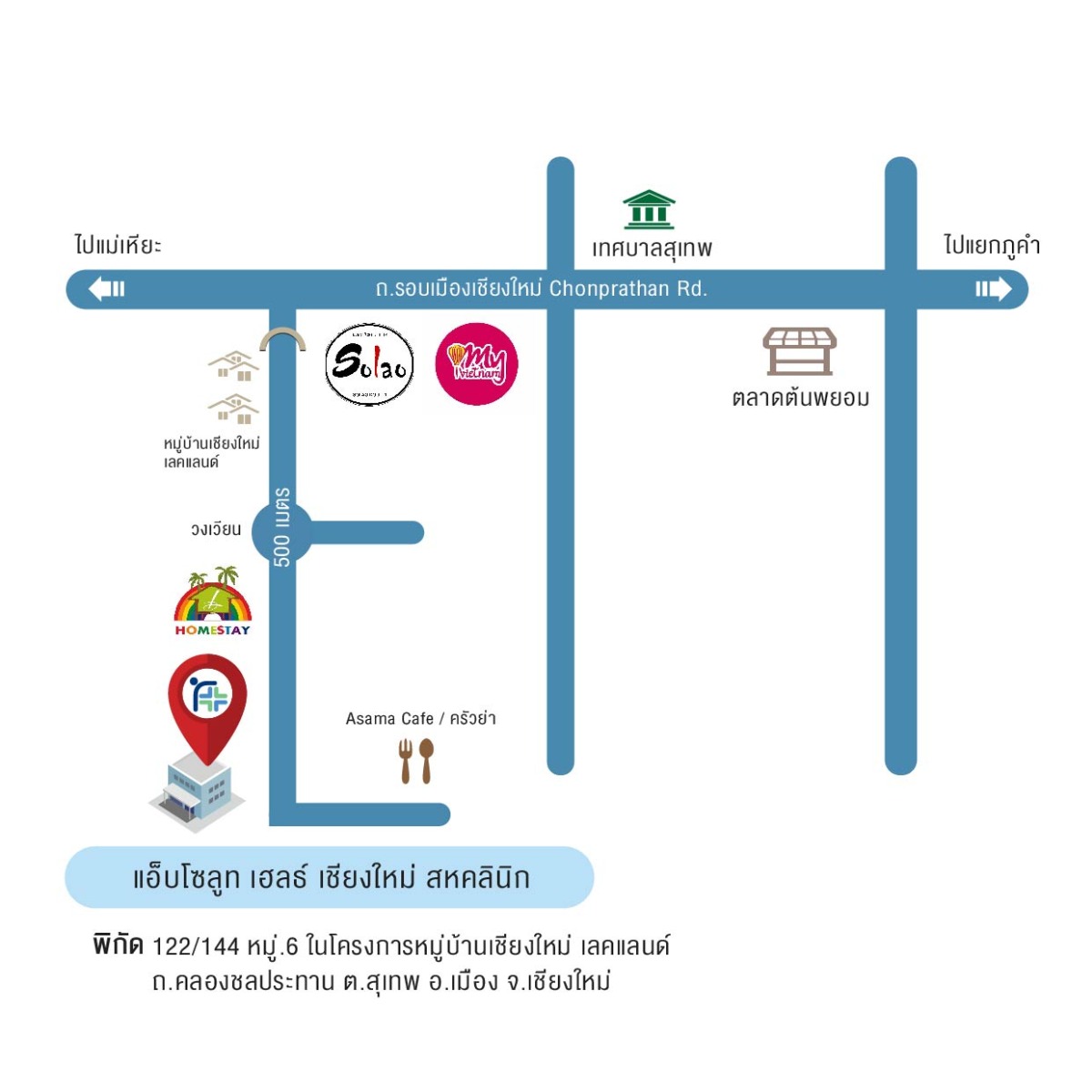 Visit us at Chiang Mai Lakeland Village Estate, Klong Chonprathan Road, Suthep Subdistrict, Muang District, Chiang Mai Province (next to Lakeland Homestay). Let's boost our immunity to stay safe and healthy together at Absolute Health Chiang Mai.